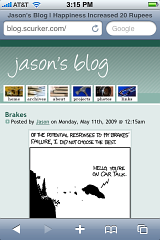 I'm probably the only one who would actually access my blog on an iPhone, but I've just now pushed out a design that should be better suited for mobile devices. I've optimized the design obviously for the iPhone/iPod, but it should work on other mobile devices like the PSP, DSi, or Android (fingers crossed).
Pretty much the only thing you should see is the header menu, the main content area (blog posts, archives, main content, etc.), and the footer. The sidebar and random quotes were removed due to lack of sufficient space. If you see anything in addition to that, it means something isn't working as it should.
If you have a different mobile device *cough*guy*cough* and are willing to give it a go, please let me know. If the page doesn't fit right or something just looks strange, please leave a comment here and any images that you can provide to see if I can't fix it. Any other ideas or suggestions that might help will be considered as well.