After months of driving around with a broken clock on my 2001 CR-V, I decided enough is enough. Time to fix that stupid clock. If someone else is having a similar issue, hopefully this will help.
Tools Needed
Steady hand
Flathead screwdriver
Phillips-head screwdriver
Soldering iron
Solder
To access the clock, you'll first need to remove the center air vent. Under the air vent there are four clips that go into the dashboard. Pry your flathead screwdriver under the center air vent to remove the clips and pull the unit out. The clip locations are shown below (I'm showing the underside of the vents):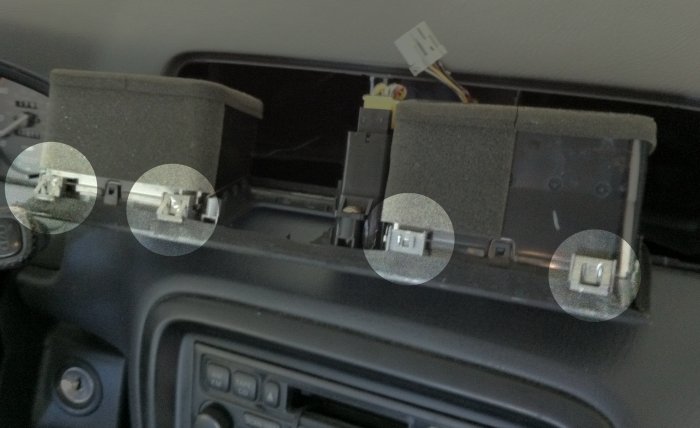 You'll want to be careful when you're pulling the vent out and be sure that all the clips are loosened. I accidentally broke a clip that wasn't loose when pulling mine out.
Once the center vent is pulled out, you should see two connectors. One goes to the hazard lights, the other to the clock. You can unplug the clock and remove the two screws holding the clock in with your phillips-head screwdriver.
Be careful when unclipping the front cover to the clock, as the buttons may fall out. Once the front cover is off you should see the clock LCD and the PCB.
When looking at my clock only the far left connection was cracked, but the soldering was pretty thin as well on the others shown. I went ahead and soldered all the connections below for good measure, as I didn't want to remove the air vents again just to re-solder.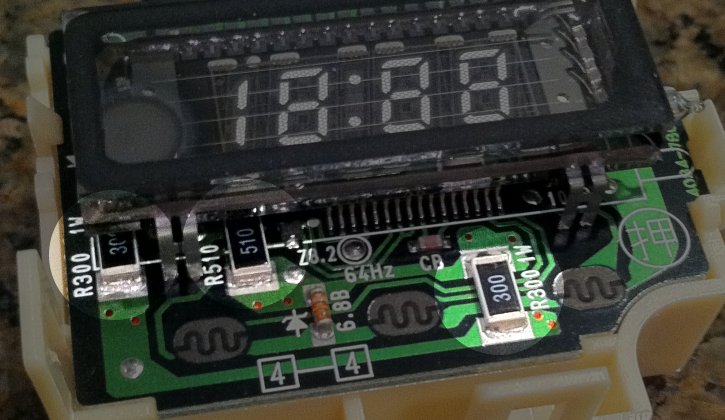 Once all your soldering is done, you can test the clock by just plugging it in and turning the ignition on. If it doesn't work, be sure to check your soldering connections. Otherwise you can connect everything back up, and screw it all together.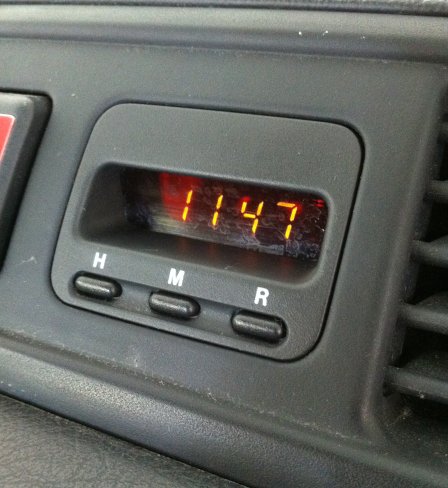 Woohoo! I now have a working clock again!
Some of you have mentioned monetary compensation. I'm not in this for the money, and not really interested in any direct donations. However if you're still interested in giving back, you can use my Amazon associates link to buy something off Amazon, of which I'll get a small percentage.