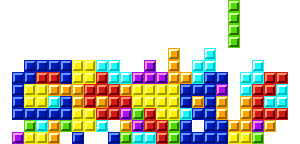 Today, Tetris celebrates 25 years of addiction, pain, and suffering; and of course Google joins in on the fun with a sweet googlefied tetris logo.
In celebration of 25 years of Tetris, I present to you some of my favorite ideas inspired by Tetris:
And of course, no list would be complete without an online version of Tetris. Here's to 25 more years of tetrominoes, "just one more", a-type, and more! Happy 25th!