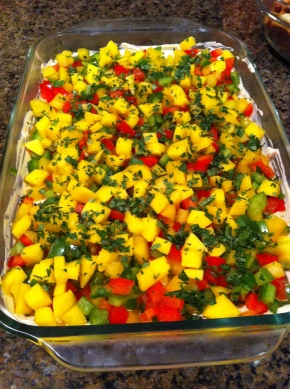 I don't know what the real name of this should be, except this dip is absolutely awesome and addicting. This was passed down from a friend in college, so enjoy!
1 (15oz) can black beans
1 jalapeño pepper
1 each medium stoplight peppers (red, yellow, green)
1 mango
2 (8oz) packages of cream cheese
1 (16oz) sour cream
1 (1.25oz) package taco seasoning
1/4 cup fresh cilantro, chopped
Finely chop the jalapeño pepper. Wash and dice the three stoplight peppers into approx. 1/4″ pieces. Peal and dice the mango into 1/4″ pieces. Chop up 1/4 cup of cilantro. Set aside.
Soften cream cheese in the microwave and mix with sour cream. Stir in taco seasoning. Mix in (drained) black beans and place into 9″ x 12″ pyrex dish. Layer top with peppers and mango. Layer cilantro on top of peppers. Allow to chill for 2 hours. Serve with tortilla chips.